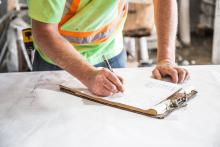 Office Furniture and Design Co. S401
Central Kansas
Located in Central Kansas, this well-established S-Corporation specializes in selling office and health care furniture while also offering commercial interior design services. The family run business has successfully operated in the region for over 44 years (since 1972). The current owner has more than 30 years of experience and has operated the business at its current location since 1982. The minimal direct competition in the area and exclusive Steelcase furniture dealer territory agreement ensures they are well respected by the community in which they serve and have a high customer retention rate as evidenced by the many referrals they receive. The current owner is a motivated seller and is interested in transitioning the business within the next two to three years and is willing to support a new owner for a transition period ranging from 12 to 18 months. Besides the owner, they employ eight additional well-trained support staff who will remain on after the sale (6 full-time and 2 part-time), i.e. two interior designers, two sales representatives, a service manager and an accounting/order management professional.
In order to provide the best possible results the company offers a complete service such that their highly trained, professional team can easily walk anyone through the entire furniture acquisition process whether it be a new building or a re-model of an existing facility. Over the years, this business has built a history of working with local businesses, healthcare facilities and regional corporations to provide effective furniture solutions. Services therefore consist of furniture sales (±78%) and design support / advisory activates (±22%). Specific services include: furniture sales; commercial interior design; selling commercial office furniture; supplying healthcare furniture; installing, relocating and reconfiguring office furniture; selling used office furniture; re-upholstery of office furniture; and general repair of all product lines and furniture. Popular current inventory wholesale product lines include Steelcase, National Office Furniture, HON and Office Master. In addition to these brands, they have aligned with roughly 25 additional direct/wholesale furniture providers and is able to realize greater cost savings through discount pricing.
The business occupies an approximate 8,250 (75' X 110') square foot space including a large 5,000 (50' X 50') square foot showroom that allows customers to see actual product and "kick the tires" in order to help them make an informed purchase decision. Additionally, the facility space contains a health care showroom, a budget office furniture store space, a computerized business administration office, receptionist work area, repair shop and an off-site 2,500 square foot warehouse storage facility. The owner has maintained a strong relationship with the landlord of both locations thereby allowing for continued, indefinite lease agreements. The building may be included in the sale via lease-to-purchase or a separate outright purchase agreement. Currently, this business relies on integrated technological purchasing support systems which include an upgraded Autocad system and Sketchup Pro software and is fully computerized throughout. Other notable equipment includes delivery vehicles including, a Ford box truck with lift gate, a Chevrolet delivery van, a 2011 Ford Transit, and a 2014 Chevrolet Impala; a Yale forklift; a palette jack; various furniture repair and upholstery equipment; administrative workstations complete with Dell computers, various Savin printers and other office supplies; and a video conferencing system. The sale of this business would include all of the assets, equipment, supplies, and the well-established client base.
Since 2011, this business has sustained over 5% compounded annual growth (CAGR) and has consistently generated over $1.5m in sales, currently grossing over $1.8m (in 2015). Additionally, this business has consistently generated positive cash flows, with a net income margins roughly per industry standards of 7% (± $130K in 2015). Annual discretionary cash flow earnings to a new owner, i.e. adjusted EBITDA, is estimated to be more than 15% or roughly $225K+ before any new owner's remuneration, also in line with industry averages, which is more than sufficient for a new outright owner to service any debt financing and still receive a generous remuneration package. The estimated value range from this practice is between $670K and $950K (excluding cash, receivables, inventory, liabilities and facilities). For illustration purposes, based on weighted averages of our analysis/method, as described in our valuation report, the estimate of value of the Company as of December 31, 2015 is around $800K.
Biz Furn. Supply S401

Historical




2015

Base




2016

Forecast




2017

Forecast




2018

Forecast




2019

Forecast




2020

Revenue/Sales




% Increase

1,859,940




-2.1

1,919,458




3.2

1,976,082




3.0

2,029,436




2.7

2,079,157




2.5

2,124,899




2.2

Gross Profit




GP Margin (%)

615,841




33.1

660,681




34.4

685,111




34.7

708,683




34.9

731,244




35.2

752,643




35.4

Net Income (EBIT)




NI Margin (%)

131,152




7.1

171,137




8.9

191,006




9.7

211,384




10.4

232,157




11.2

247,889




11.7

Adjusted EBITDA*




EBITDA Margin (%)

223,781




12.0

265,942




13.9

288,220




14.6

311,084




15.3

334,422




16.1

352,801




16.6
* Adjusted EBITDA = EBIT plus Depreciation and Adjustments (excludes Owners compensation)