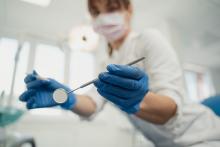 General Family & Hygiene Dentistry DGS401
Central Kansas
For more than 30 years, this general family dental practice has been operating as a sole proprietorship in a well-populated town in central Kansas. They provide a variety of services including: general/preventative, restorative, and some limited specialist services. Currently, they are open four and a half days a week working from 8-12 & 1-5 Monday-Thursday. On Fridays they enjoy a half day of work, with office hours from 8-12. The owner believes a partner buy-in would be the ideal transition strategy, but is also willing to sell the practice as an outright sale to the right candidate. Remarkably low staff turnover is what separates this practice from its competitors, with current employees combining for over 55 years of work with this practice. Besides the owner dentist, this practice employs 6 people, including: 2 full-time dental assistants, 1 full-time and 1 part-time front office receptionist, and 2 part-time dental hygienists. Each staff member is adequately trained and is likely to stay on after a sale.
General procedural services offered consist of routine examinations, intraoral and panoramic X-rays, basic oral cleanings, and whitening. Restorative procedures include: fillings, veneers, crowns, bridges, root canals, and extractions. Limited specialty services offered consist of endodontic treatment options and some oral surgery including wisdom teeth removal. Presently, this practice's recall system has appointments booked six months in advance, representing a loyal patient base to assist a new owner to maintain strong collections during a transition process. Word-of-mouth referrals are what currently helps this practice develop its patient base, providing an opportunity for a new owner to increase marketing operations in order to continue strong sales growth. This practice is estimated to have an active client base between 1,700 - 2,000 patients (seen in the last 24 months), performing 3,510 examinations and 3,326 dental cleanings in the past year.
Centrally located in a high-traffic area with great visibility from the street this 2,800 square foot eight operatory facility is owned by the dentist. Being a sole proprietor this property ideally would be negotiated separately but will be sold with the practice. Alternatively, the owner is also open to a lease or lease-to-purchase agreement. Only six of the operatories are currently being utilized, leaving plenty of room for a new owner to expand this practice's operations. Two of the in-use operatories are set up for doctors' use, while the other four are for dental hygiene procedures. Inside you will also find a reception area, an administration area, and multiple personal office areas. Each in-use operatory is equipped with the necessary dental equipment, digital intra-oral cameras, and a TV monitor to ensure patient comfortability. All compressor and suction units are less than 3 years old, and all other systems are operational and in good condition.
Notable equipment includes: a 2-D Plan Meca panoramic Proline X-ray machine, Nomad portable x-ray unit, two Dentsply cavitron units, a Wave One Dentsply endodontic system equipped with an apex locator, VacStar 40 Air Techniques dental vacuum system, and a Midmark autoclave for sterilizations. EasyDental practice management software is used simplifying daily tasks associated with operating a general family dentist practice. All of the assets, equipment, and supplies are owned by the doctor and would be included in the transaction.
This practice has grown at a consistent pace over the past five years, with collections growing at a 6 year compound annual growth rate (CAGR) of over 4.27%, exceeding industry's projections. Collections over the past 3 years have consistently been over $950K and in 2017 the practice generated over $1M in collections. Cost of drugs, dental supplies and lab expenses in 2017 are around 12% of collections, implying a gross margin of 88% which is in line with industry norms. "Normalized" net income is estimated to be more than 18% of collections (after adjusting from a sole proprietorship to an S-Corp). Annual discretionary cash flow earnings to a single new owner, i.e. adjusted EBITDA or doctors gross income, is estimated to be 35% (in line with industry averages), i.e. ~$350K+, sufficient for a new outright owner to service any debt financing and still receive a generous remuneration package. The estimated value range of this practice from business operations alone is between $610K and $740K (excluding cash, receivables, liabilities and facilities). For illustration purposes, based on weighted averages of our analysis/method, as described in the valuation report, the estimate of value of the Company as of December 31, 2017 is around $680K.
Dentistry DGS401

Historical




2017

Base




2018

Forecast




2019

Forecast




2020

Forecast




2021

Forecast




2022

Revenue/Sales




% Increase

1,000,405




2.4

1,025,415




2.5

1,051,051




2.5

1,077,327




2.5

1,104,260




2.5

1,131,866




2.5

Gross Profit




GP Margin (%)

883,594




88.3

899,090




87.7

923,669




87.9

947,838




88.0

972,639




88.1

998,086




88.2

Net Income (EBIT)




NI Margin (%)

190,083




19.0

196,158




19.1

203,165




19.3

209,321




19.4

215,658




19.5

222,182




19.6

Adjusted EBITDA*




EBITDA Margin (%)

352,094




35.2

360,089




35.1

369,035




35.1

377,150




35.0

385,466




34.9

393,987




34.8
* Adjusted EBITDA = EBIT plus Depreciation and Adjustments (excludes Owners compensation)