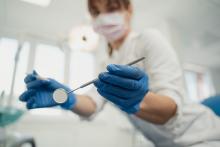 General Family Dentistry MTG753
Central Kansas
For over 22 years, this family dentist has been providing this underserved area in West Central Kansas with excellent dental services and procedures, focusing on preventative and restorative services. With the recent passing of the dentist/owner, the owner's wife is now highly motivated to sell the practice. To serve as an added incentive, the KDA is offering the purchaser a $25,000 Kansas Initiative for New Dentists (KIND) Program dental school loan forgiveness grant if the dentist fulfills a 2-year service commitment to practice in rural Kansas and be a Kansas/Medicaid provider with an open panel of up to 35% patient encounters. Operating as an S-Corp, this practice is well respected in the town for its dentistry and community involvement. In this rural area, treating their patients like family is what sets them apart and has made them the busiest dentist office in the area. With the practice currently operating 4 days a week (Monday-Thursday), a new owner could easily expand operating hours to include Fridays. By operating as an almost "fee-for-service" practice they have been able maintain collections at 98% of billings. Aside from the previous owner/dentist, the practice consists of 6 full-time workers and 1 part-time employee. Locum tenens dentists are currently being used to take care of patients until a new buyer can be found. Full-time staff at the practice include 2 hygienists, 2 chair-side assistants, and 2 front office staff, with the sole part-time employee operating the company's payroll. According to the dentists spouse all staff are expected to remain on after a sale.
Most of the practice's offerings are general dentistry preventative services which include patient exams, hygiene therapy, fluoride treatments, and x-rays. Restorative services offered include removing tooth decay, fillings, crowns or bridgework, and treatment for dental trauma. Advanced treatments are also available and include root canal therapy, orthodontics, and dental implants, with some endodontics available as well. Complex endodontics and orthodontics are outsourced as well. Even after becoming a fee-for-service practice they still serve ~3,000 clients with an estimated client retention of 95%. Many patients have come back to the practice who initially left for other dentists contracted in their PPO plan. Office staff will still file insurance claims on behalf of the patients and accept most insurance plans. Currently the practice has no website and does little marketing. By creating a website, increasing marketing efforts, offering expanded services and increasing operating hours for the practice, a new owner may have an opportunity to grow the practice. Conveniently, this practice is located in the downtown area of its Kansas community. The ~2,250 sq. ft. building is owned by the dentist's family and includes a 1,724 sq. ft. main level with a 532 sq. ft. basement for storage and a parking lot located behind the building.
Concerning the future of the building, the owner would be open to an outright purchase, a lease, or a lease-to-purchase agreement. When you walk into the one story building, you are welcomed by reception area complete with two computer workstations operating on Windent software for appointments and billing along with a waiting area for patients. Breaking off from the reception area are two hallways which lead to the rest of the practice, which includes the operatories. Of the five operatories, two are for the dentist, leaving the remaining three rooms for the two hygienists, with one of their rooms often being used for overflow for the dentist. Also included in the building is a laboratory, basement, private office, and two bathrooms. Each operatory is equipped with an adjustable Adec chair, an exam light, and a computer. Additionally the practice includes a Panorex panoramic x-ray machine, ScanX digital scanner, Autoclave sterilizer, Cavitron JET Plus Ultrasonic Scaler, and a Ray Foster Model Trimmer. An outright sale would include all of the assets, equipment, supplies and the well-established patient list.
Historically, this practice produced collections of $750k+, however, the 2019 and 2020 numbers are lower following the death of the owner and due to Covid-19. Projected collections from production are assumed ~80% of historical performance (~$645K+). The practice Cost of Sales margin is ~12% (after lab and dental supplies), translating to a gross profit margin of ~88% of collections. Operating margins, post-Covid - based on 80% production levels and a normalized DDS salary is around $75K (11%-12% of collections), which is slightly below industry averages (~15%). If a new single owner / dentist were to acquire this practice today, annual discretionary cash flow earnings, i.e. adjusted EBITDA or doctors gross income, is estimated to be more than 33%, i.e. ~$200k+, sufficient for a new outright owner to service any debt financing and still receive a remuneration package commensurate with the area/town. The estimated value range from this practice is between $290K and $370K (excluding cash, receivables, liabilities and facilities). For illustration purposes, based on weighted averages of our analysis/method, as described in our valuation report, the estimate of value of the Company as of December 31, 2020 is around $330K(note: this is NOT RedTire's selling price just a guidance number).
General Family Dentistry MTG753

Historical




2020

Base




2021

Forecast




2022

Forecast




2023

Forecast




2024

Forecast




2025

Sales/Collections




% Increase

463,776




-31.2

644,972




2.0

657,872




2.0

671,029




2.0

684,450




2.0

698,139




2.0

Gross Profit




GP Margin (%)

401,744




86.6

569,350




88.3

581,316




88.4

592,881




88.4

601,660




87.9

615,926




88.2

Net Income (EBIT)




NI Margin (%)

56,383




12.2

76,087




11.8

77,365




11.8

77,765




11.6

80,688




11.8

85,408




12.2

Adjusted EBITDA*




EBITDA Margin (%)

149,680




32.3

234,364




36.3

238,808




36.3

242,438




36.1

248,653




36.3

256,733




36.8
* Adjusted EBITDA = EBIT plus Depreciation and Adjustments (excludes Owners compensation)