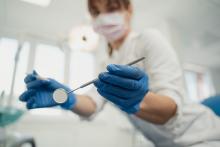 General Family Dentistry M861
Central Kansas
This well-established practice provides general dentistry to a rural population in Central Kansas and surrounding counties. This sole proprietorship is the only full time dentist in the town of almost 2000 leaving no barriers to continued success. The dentist/owner is practicing four days per week, with implant surgeries performed Monday mornings. The Sole Proprietor is a very motivated seller and is interested in transitioning the business to a new owner within the next year while providing as much guidance as the new owner desires. Besides the owner/dentist, the practice employs four full-time support staff: a receptionist (40 years with office), two supragingival scaling assistants (10 and 7 years) and one chairside assistant (2 years).
General dentistry procedural services offered by this practice include: adult and child prophylaxis, non-surgical periodontal treatment, composite restorations, amalgam restorations, simple extractions, surgical extractions, pediatric restorative (average 1-2 per day), endodontics, NobelBiocare implant placement (NP, RP, WP and 6.0) and restoration, BruxZir, PFM, Gold and Argenco-W cast alloy crowns, some complete dentures and relines, removable partial dentures, some implant retained lower overdentures, zoom bleaching and nightly tray whitening. Nitrous oxide machines are available in the operatories. Due to time constraints, most molar endodontic work and impacted 3 molars are referred out. The current patient base of over 4,000 total patients, and 2,100 active files (per owner) offers the new owner a strong foundation to immediately earn a good level of cash flow. The owner describes the area as underserved, and having "unlimited patients", and as a result they have been at capacity for new patients for over four months.
The dental office consists of a comfortable 6 chair reception room, a computerized business/scheduling office with all needed electronics and software, receptionist work area, three fully equipped operatories (two for the doctor/dentist and one for hygiene), a panoramic imaging area, a 10" x 8" sterilization room, large basement storage area, a basement laundry area, a stone/wet lab, and an employee lounge. The building's plumbing was replaced with Pex and a Manibloc in 2014. Notable equipment includes Patterson Eaglesoft software, 7 computer workstations, 3 Schick CDR sensors, CDR PanElite Pano, a Nomad Pro 2 x-ray source, 2 mounted Porter nitrous oxide machines, new 10" cherrywood Adec Stericenter with G4 and 2500 Statims, Biosonic ultrasonic cleaner and Assistina, new Kavo lab bench, new Pelton and Crane 1700 Hygiene chair with cuspidor and Helios light, OzPlus Electric Lab Drill, new DigiDoc Intraoral Camera, new stone/wet lab lathe, vacuum former, Triad curing unit, and CarieVu. The sale of this business would include all of the assets, equipment, supplies and the well-established patient list.
This practice consistently generates over $500K in collections and positive cash flows, currently collections are over $545K (in 2015) generated by a stable client base. Net income is estimated to be roughly 10% (±$50K in 2014). Annual discretionary cash flow earnings to a new owner, i.e. adjusted EBITDA or doctor's gross income, is estimated to be more than 35% or roughly $175K+ (before any new owner's remuneration), sufficient to service any debt incurred to acquire this practice. For our purposes the value range is between $275K and $340K for only the business aspect of your practice (excluding cash, receivables, liabilities and facilities/building). For illustration purposes, based on weighted averages of our analysis/methods, the estimated value of the Company as of December 31, 2015 is around $300K.
Dentistry M861

Historical




2014

Base




2015

Forecast




2016

Forecast




2017

Forecast




2018

Forecast




2019

Revenue/Sales




% Increase

536,080




1.5

561,814




3.0

603,950




7.5

616,029




2.0

628,349




2.0

640,916




2.0

Gross Profit




GP Margin (%)

411,924




76.8

477,541




85.0

513,357




85.0

523,624




85.0

534,097




85.0

544,779




85.0

Net Income (EBIT)




NI Margin (%)

30,668




5.7

87,108




15.5

93,641




15.5

95,514




15.5

97,424




15.5

99,373




15.5

Adjusted EBITDA*




EBITDA Margin (%)

165,028




30.8

219,834




39.1

227,695




37.7

230,908




37.5

234,172




37.3

237,488




37.1
* Adjusted EBITDA = EBIT plus Depreciation and Adjustments (excludes Owners compensation)