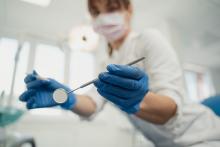 General Family Dentistry LCB548
Central Kansas
Operating as the only dental practice within a tri-county area (nearest competitor is 24 miles away), this practice has been serving the local community with consistent quality care for the past 40 years. As a result, this presents a unique opportunity for a new owner to claim a significant portion of the dental market share in the area. Dental services offered by this practice include: general/preventative, restorative, cosmetic, innovative limited orthodontics, and all endodontic procedures. Classified as an S-Corp, the current owner is a motivated seller willing to "owner finance" the transaction for a suitable buyer. Additionally, as per the RedTire strategy, the owner is willing to provide guidance and assistance in facilitating a successful transition, therefore, this is an opportunity for a gradual ownership transition or an outright sale. This practice has maintained an active client base of 1,200 patients which happens to be equivalent to the town's population. Besides the owner-dentist the staff is comprised of 1 full-time office receptionist, two full-time dental assistants (both assistants are cross-trained to assist with dental hygiene services), and one part-time custodian. Each team member depends on this practice as their primary source of income and is likely to stay on after a sale.
Per the owner, this practice offers all phases of dentistry. Second molar apical surgeries, implant placements, full mouth orthodontics, full mouth periodontics, and third molar surgeries requiring sedation are referred out. General and cosmetic procedural services offered consists of dental prophylaxis, root canals, veneers, and KOR tooth whitening. Preventative procedures and various routine examinations to maintain each patient's oral health are offered such as scaling, X-rays, fluoride treatments, etc. Restorative dental services offered include: sealants, extractions, crowns and bridges, and fillings among others. Specialty services include one appointment implant retained dentures, implant restorations, apicoectomies and innovative orthodontics. Since this practice's inception, word of mouth referrals have been depended on for maintaining business, so a new owner could easily capitalize on the high customer retention in this practice and potentially expand business through an external marketing campaign.
Regarding the real estate, the clinic is a 1,300 square foot red brick building that is located in the heart of town, one block away from Main Street. The land and building are both owned by the owner-dentist and would ideally be negotiated with the sale of the practice. Alternatively, the owner is also open to a lease or lease-to-purchase agreement. The clinic is comprised of two fully equipped operatories, laboratory area, a reception/waiting room, an administrative/back-office, and a staff break room with a kitchenette attached. Each operatory provides behind the patient delivery and each is equipped with a Vista Cam Omni oral camera system, an Adec assistant cart, a DMC swivel dental unit, a Pelton Crane Trac light, and Gendex GX-770 intraoral X-ray. Chairs are Pelton Crane Chairman, Dental Eze J-8, and Royal and Adec dentist chairs and assistant stools. Other notable equipment includes: 2 Statim Cassette autoclave sterilization units, a Ray Foster MT10 trimmer, Isolite retraction systems. Other key lab and operatory equipment includes a microscope, Air Technique compressor, back up compressor, and a Pelton Crane Windmill suction unit. EZ Dental practice management software is used simplifying daily tasks associated with operating a general family dentist practice. The sale would include all of the assets, equipment, supplies and the well-established patient list.
Over the past five years, this practice has generated stable collections around $400K. Consistently the practice has been providing a positive benefit stream to the owner with pre-tax earnings estimated to be approximately 14% of gross collections. In the absence of a dedicated hygiene department, annual discretionary cash flow earnings to a new owner or "doctor's gross income", i.e. adjusted EBITDA, is estimated to more than 45% of revenue (above industry averages) roughly $180K+ (before any owner's remuneration), sufficient for a new outright owner to easily service any debt financing and still receive a very generous remuneration package. The estimated value range from this practice is between $190K and $285K (excluding cash, receivables, liabilities and facilities). For illustration purposes, based on weighted averages of our analysis/method, as described in our valuation report, the estimate of value of the Company as of December 31, 2017 is around $230K.
General Family Dentistry LCB548

Historical




2017

Base




2018

Forecast




2019

Forecast




2020

Forecast




2021

Forecast




2022

Revenue/Sales




% Increase

398,344




-4.0

409,895




2.9

418,093




2.0

426,455




2.0

434,984




2.0

443,684




2.0

Gross Profit




GP Margin (%)

344,357




86.4

352,332




86.0

359,495




86.0

366,685




86.0

374,018




86.0

381,885




86.1

Net Income (EBIT)




NI Margin (%)

57,486




14.4

63,573




15.5

63,774




15.3

64,368




15.1

65,655




15.1

66,715




15.0

Adjusted EBITDA*




EBITDA Margin (%)

178,519




44.8

185,816




45.3

187,240




44.8

189,068




44.3

191,603




44.0

193,922




43.7
* Adjusted EBITDA = EBIT plus Depreciation and Adjustments (excludes Owners compensation)