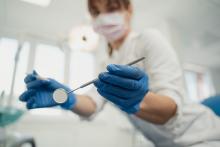 General and Restorative Dentist EK637
Central Kansas
Located in a growing community less than 20 minutes away from a lively college town, this dental practice has provided excellent dental care to Central Kansas communities since the 1980s. For health reasons the owner is looking to retire and is thus motivated to find a successor quickly. To ensure a successful transition, the owner is willing to phase out of their role for as long as they are capable. Having operated at the current location for over 26 years, this practice has established relationships with patients, giving clients a warm and welcoming atmosphere to improve their dental health. This has fostered a relaxed and easy going environment that allows clients to feel comfortable sharing about their personal lives and also keeps them coming back. Incorporated as a C-Corp, they offer general and restorative dentistry services to patients of all ages. Due to the owner's health, the business operations have slowed to 4 days a week (Mon.-Thurs.) with reduced services and hours of operation. This creates an opportunity for a new owner to easily expand service hours (and billings) if they so choose. Not including the owner, the practice employs two other well-trained employees that include a full-time dental assistant and office manager.
Operating as a general dentistry practice, they offer preventative and diagnostic services, which includes hygiene therapy, periodic exams and routine cleanings. These regular visits are handled by the dentist, as there is not currently a hygienist working for the practice. Restorative work also represents a large share of billings and includes composites, fillings, crowns and sealants. Almost all endodontic work is performed in-house, as well as 75% of extractions. Aesthetic procedures include bleaching treatment, as well as upper/lower dentures and partial dentures. Orthodontic and periodontic work is referred. The practice has served ~870 active clients (over the last 24 months), 100 of which were new clients in 2016 (~8 per month) implying an impressive 50% market share for the town. Outside of Phone Book listings, there has been little effort by the current owner to solicit new patients, allowing a new owner to significantly increase the marketing spend.
Located in the heart of town, this practice leases a 2,800 square foot building adjacent to a running stream. Only 1,200 sq. ft. is currently being used, which would allow a new owner to expand the facility if they so choose. It is expected that the attractive lease agreement would transfer to a new buyer. Remodeled in 2010, the office contains two well-equipped operatories, a sterilization area and a laboratory. The updated facility also contains a well-furnished reception room (with seating for eight), a business office, a private office, a mechanical room and two lavatories.
The practice utilizes Eaglesoft Dental Software for imaging purposes and uses a separate system for financial tracking (insurance filing, billing, AR/AP, etc.). Patient records are not computerized, but the software has the ability if desired. X-ray equipment includes two Gendex X-ray Units, as well as digital x-ray system with 2 sensors (Schick 33 Sensors). The operatories include Dental EZ Chair units and a Quolis patient chair. Hygiene and restorative equipment include a P5 Newtron ultrasonic, Star handpieces and Solera handpieces. The lab is equipped with a Torit model trimmer, a Baldour lathe, and a Midmark autoclave, among other dental equipment. An outright sale would include all of the assets, equipment, supplies and the current patient list.
The practice generated $280k+ in collections in 2016 and has produced as much as $320k+ four years ago (2013). The decline in collections is a result of the owner's health, so it would be reasonable to assume historical revenues could be reestablished by a new owner. Cost of drugs, dental supplies and lab expenses in 2016 are estimated to be 12% of collections, implying a gross margin of 88%. Estimated pre-tax profit is 19% of total collections, which is above industry averages. Annual discretionary cash flow earnings to a single new owner, i.e. adjusted EBITDA or doctors gross income, is estimated to be 40%-50% of total collections (well above industry average of 30%-40%), i.e. ~$140k+, sufficient for a new outright owner to service any debt financing and still receive a generous remuneration package. The estimated value for this practice is $100K to $141K (excluding cash, receivables, liabilities and facilities). If interested, a comprehensive valuation completed by 3rd party consultants can be provided upon request.