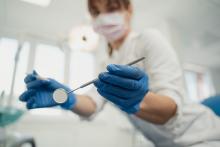 Family and Cosmetic Dentistry Practice – JRM665
Central Kansas
Established in 1989, this S-Corporation is the only dentist located in its Central Kansas town, close to a 9000-acre lake with many hunting and recreational opportunities. Dedicated to providing personalized, gentle, and comprehensive patient care, this practice offers an extensive list of services including; preventative, restorative, cosmetic and some specialized treatments. To achieve a successful transition within the next 2 years, this motivated dentist is looking to sell the practice through an outright sale or short-term transition with mentorship (if needed) and may offer seller financing to the right candidate. Focused on putting their patient's needs first and ensuring the that the patient experience is as enjoyable as possible, this practice has accumulated more than 1,800 active patients (seen in the last 24 months) and gains around 16 new patients per month. Operating at a 90% customer retention rate, this practice is well-respected and trusted in the community to provide high-quality services, per the owner. Open 4 days per week (Mon-Thurs), growth could easily be achieved by extending hours to include Fridays and tapping the clientele that come from within a 30-mile radius. Besides the owner / dentist, this practice employs 4 full-time employees including; an office manager, a dental hygienist, and two dental chairside assistants/receptionists. In the event of a sale, the ownership transition would be seamless as all employees are expected to stay.
Wanting to ensure that patients receive results that they are proud to show off, this practice offers a full scope of general and cosmetic dentistry services. Priding themselves on always offering top-notch dental care for their clients, they have built up an expansive list of preventative services including: dental exams & routine check-ups, pedodontics, dental sealants, tooth extractions, and oral hygiene/deep teeth cleaning. Constantly striving to keep up with the ever-changing world of dentistry, restorative services include but are not limited to: dental bridges, non-surgical root canal, dentures, dental fillings, and dental crowns. By utilizing their state-of-the-art dental equipment, this practice is able to provide cosmetic treatments, such as dental bonding, porcelain veneers, inlays & onlays, and teeth whitening. While this practice does not offer dental implants, they still offer initial consultations to address any patient's questions and provide a dental/radiographic examination for all patients. Currently this practice outsources 3rd molars, orthodontic procedures, and most endodontic procedures, but the demand is there for a new owner to expand its business operations to include these procedures.  
Located within their town's central business district, they occupy a ±1,500 square foot dental office, comprised of a three dental operatories. With the owner in possession of the land and building, the facility would ideally be negotiated with the sale of the practice, but they are open to a lease or lease-to-purchase agreement. Upon entering the practice, patients are greeted at the welcoming reception desk within a waiting area. Adjacent to the reception is the treatment area, housing two doctor operatories and one hygiene operatory - each containing DCI Edge delivery systems, and workstation with large Dell computer screens that are fully integrated with their EagleSoft Practice Management Software from Patterson. Both dentist operatories have identical equipment including Nomad Pro 2 handheld x-rays and Vivadent Silamat Dental Amalgamator Capsule Mixer. Directly behind the reception desk is the laboratory with; Buffalo Dental Wet Model Trimmer, Handler Porta-Vac Dust Collector, Baldor Dental Lathe, SciCan Statim 2000 G4 Autoclave, and Aluminum Splash Hood. Past the lab, at the end of the hallway, is the pano room where the Sirona Panoramic Orthophos XG 3D (purchased in 2018) is located. Next door is the doctor's office with a door leading outside which is furnished with a L-shaped desk, comfortable chair and laptop workstation also connected to Eaglesoft. At the back of the practice is the employee break room and a recently purchased AirStar Air Techniques (twin) Compressor in the utility room. An outright sale would include all assets, equipment, supplies, and the well-established patient list.
Prior to COVID, collections peaked in 2019 at $775K but has since declined year-over-year to $640K in 2021 and ~ $616K in 2022 which, according to the owner, can be attributed to working less hours to avoid burnout. Dental Supplies and Lab Expense are estimated to be about 10% of collections, implying a gross margin of 90%. Net income / net profits are estimated to be slightly below industry average of at least 10% collections. Annual discretionary cash flow earnings, also known as adjusted EBITDA or doctor's gross income, is estimated to be more than 38% of collections or ±$235k, which is sufficient enough for a new owner to service any debt financing and still receive a generous remuneration package. The estimated value range from this practice is between $280K and $370K or 45.4% to 60% of Collections in 2022 (excluding cash, receivables, liabilities and facilities). For illustration purposes, based on weighted averages of our analysis/method, as described in our valuation report, the estimate of value of this dental practice as of December 31, 2021, is around $325K. (Note: this is only for guidance it is not RedTire's suggested price point)
General Dentistry JRM665

Historical




2021

Base




2022

Forecast




2023

Forecast




2024

Forecast




2025

Forecast




2025

Sales/Collections




% Increase

635,888




-1.8

616,917




-3.0

629,255




2.0

641,841




2.0

654,677




2.0

667,771




2.0

Gross Profit




GP Margin (%)

560,808




88.2

547,390




88.7

564,440




89.7

576,453




89.8

588,953




90.0

601,332




90.1

Net Income (EBIT)




NI Margin (%)

25,633




4.0

46,867




7.6

61,355




9.8

64,782




10.1

70,008




10.7

73,679




11.0

Adjusted EBITDA*




EBITDA Margin (%)

208,086




32.7

237,188




38.4

255,482




40.6

262,792




40.9

271,979




41.5

279,688




41.9
* Adjusted EBITDA = EBIT plus Depreciation and Adjustments (excludes Owners compensation)