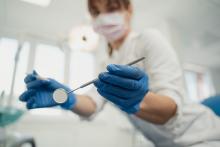 Dental Practice E950
Southwest Kansas
This "turnkey" rural family general practice in South-west Kansas has a monopolistic advantage in the market area it operates from as it is the only practice in the community and surrounding county. While the remote location is perhaps not desirable to most its success in the region makes it ideal for a recent graduate or young dental practitioner looking to own and operate their own profitable practice in a family friendly environment. This dental practice has been operating as a Sole Proprietorship for many years and has a well-established client list that will transfer with the business. The current patient base, made up of 1,865 current client appointments seen by the practice in the past two years.
The current owner and dentist has been operating the practice solo for 20 of the last 32 years practicing a 4 day/32 hour work week and offering only basic dentistry and operations. The owner stopped performing endodontics, periodontics and other long-term procedures to prepare the business for sale and to make their daily schedule easier. This all suggests, and is the opinion of the owner, that there is room for growth in the practice as more high income, longer-term procedures, and extended hours (extra day to a full work week) could easily create increased performance, as these consultations are already being received but are being outsourced. General family dentistry procedural services are the main source of business offered by this practice which includes; a heavy focus on crowns and bridges, dental prophylaxis, restorative fillings, extractions, partial dentures and restorative procedures for implants. Preventative procedures like x-rays, fluoride treatments, exams, sealants, etc. are also performed.
The practice also includes the following equipment; ultrasonic cleaners, Delta Autoclave, Panoramic Film X-Ray & Progeny Digital/or Film X-Ray machines, Eaglesoft office operating system, endodontic capable Tri-Auto ZX system, dental office chairs and equipment and much more. The sale would include all of the assets, equipment, supplies and the real-estate and offices which are owned by the owner. The almost 3,000 square foot building and premises includes a three-operatory modern fully plumbed 1,760 square foot office space used solely by the doctor. A large 1,200 square foot storage / mechanical room, reception area / waiting room, doctor's office and restroom for both client's and staff are also incorporated in the building.
Besides the owner/dentist, the practice currently employs 1 office manager, 2 support staff and 3 rotating front desk receptionists/dental assistants who are happy to stay during and after the transition. As the doctor nears retirement and has outsourced more services, revenue has declined slightly at the practice, although growth can easily be achieved by the business by not referring out longer procedures, higher dollar procedures and additional operating days and hours, such as working on Fridays.
Currently the practice delivers over $270K in gross revenues (2014 - YTD July 2015 = $195K). Net profit / income to the business has historically been estimated to be in excess of $70K (+25% of gross sales), although this is better than industry averages it does not include a DDS salary. Annual discretionary cash flow earnings to a single new owner, i.e. adjusted EBITDA or doctors gross income, is estimated to be more than 37%, i.e. ~$100K+ (before any compensation / remuneration), sufficient for a new outright owner to service some debt financing and still receive a remuneration package commensurate with the region. The estimated value range of this practice from operations is between $90K and $145K (excluding cash, receivables, liabilities and facilities). For illustration and based on weighted averages of our analysis/methods, as described in our valuation report, the estimate of value of the Company as of December 31, 2014 is around $120K.
Dentist E950

Historical




2014

Base




2015

Forecast




2016

Forecast




2017

Forecast




2018

Forecast




2019

Revenue/Sales




% Increase

265,678




-11.0

292,246




10.0

336,083




15.0

344,485




2.5

353,097




2.5

361,924




2.5

Gross Profit




GP Margin (%)

228,042




85.8

257,219




88.0

295,802




88.0

303,197




88.0

310,777




88.0

318,547




88.0

Net Income (EBIT)




NI Margin (%)

42,455




16.0

72,211




24.7

84,723




25.2

87,874




25.5

90,071




25.5

92,323




25.5

Adjusted EBITDA*




EBITDA Margin (%)

82,119




30.9

113,245




38.7

127,168




37.8

131,773




38.3

135,467




38.4

139,260




38.5
* Adjusted EBITDA = EBIT plus Depreciation and Adjustments (excludes Owners compensation)