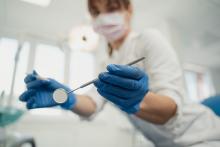 Dental LLC/S-Corp US880
Southwest Kansas
This Dental business is a well-established, award winning dental practice located in the southwest of Kansas. The company specializes in hygiene, general dentistry, orthodontics and surgery. The owner has successfully practiced at this location for over 40 years as a Sole Proprietor / LLC (Professional - PA) but recently converted to an S-Corp in 2014. Since they are nearing retirement they have begun practicing on a limited basis with reduced hours of operation (4 day work week). This business prides itself on the wide variety of services they provide and have developed many long term relationships and multigenerational family clients during the past 40 years. The current owner has worked hard to ensure that all of the dental specialties offered are served to the best of their ability and are interested in transitioning the business within the next one to two years. General dentistry procedural services are the main source of business offered by this practice which includes; restorative fillings, crowns and bridges, extractions, root canals, dentures, and partial dentures. Preventative procedures like x-rays, fluoride treatments, exams, sealants, etc. are also performed. The owner has currently stopped performing surgery and implant procedures to prepare the business and client list for sale. The current patient base of 1,842 clients (active files seen in last 36 months) and an average of 15 new patients/month, offers a new owner a strong foundation to immediately earn a good level of cash flows.
The owner owns the premises and 2,400 square foot building that is located on a ⅓ acre piece of land. The large plot allows room for expansion purposes or the construction of a new facility. The building includes; a reception area and waiting room, an office that houses the x-ray machine and three operatories, one dedicated doctor operatory, one resident dental hygienist, and a resident dental hygienist and orthodontic station. Notable equipment includes a Panorex machine, chairside Patterson Dental equipment, a Chayes Unit, and film processor – A/T 2000 XR among others. Besides the owner/dentist, they employ six support staff; two full time resident dental hygienists, two part time assistants and two receptionists. The sale would include all of the assets, equipment, supplies and the well-established patient list.
This practice is debt free and has consistently had gross collections of over $600k in sales ($615K in 2014). Recent revenues have declined slightly but are generated by a stable client base and thus mostly corresponds to the decline in operating hours and services offered. Expanded operating hours and services could provide a considerable opportunity for growth, especially the ability to practice more high income and longer term procedures. This practice has consistently provided positive cash flows, with a net income estimated to be more than 20% ($143K in 2014). Annual discretionary cash flow earnings to a new owner, i.e. adjusted EBITDA or doctor's gross income, is estimated to be around 35% or more than $200K+ (before any new owner's remuneration). The estimated value range from this practice is between $320K and $390K (excluding cash, receivables, liabilities and facilities). For illustration purposes, based on weighted averages of our analysis/method, as described in our valuation report, the estimate of value of the Company as of December 31, 2014 is around $360K.
Dentistry US880

Historical




2014

Base




2015

Forecast




2016

Forecast




2017

Forecast




2018

Forecast




2019

Sales/Collections




% Increase

611,056




-1.8

623,277




2.0

635,743




2.0

648,458




2.0

661,427




2.0

674,655




2.0

Gross Profit




GP Margin (%)

504,885




82.6

517,704




83.1

529,648




83.3

541,862




83.6

554,353




83.8

567,126




84.1

Net Income (EBIT)




NI Margin (%)

141,517




23.2

136,083




21.8

140,394




22.1

144,823




22.3

149,374




22.6

154,048




22.8

Adjusted EBITDA*




EBITDA Margin (%)

214,912




35.2

210,082




33.7

215,003




33.8

220,049




33.9

225,221




34.1

230,523




34.2
* Adjusted EBITDA = EBIT plus Depreciation and Adjustments (excludes Owners compensation)